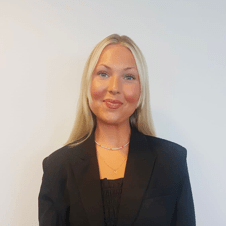 Therese Rosengren: Drawn into IT by the fast growth and career opportunities
"I wanted to be a part of an exciting and challenging IT industry that grows fast and where there is great demand for qualified professionals."
Mentoring and support make a big difference
Like so many young people, I struggled to find my path at the beginning. First, I was studying office and marketing management without any clue what I wanted to do. It took me a few years to figure things out and as I turned 23, I went back to school to study IT Networking.
What was pivotal to me, was that during my studies I had a great mentor by my side who helped me to get contacts and an internship opportunity within the industry. Already in school, I had a great mentor, who helped me with getting contacts and helped me with an internship opportunity.
I understood that surrounding yourself with great people who support you and encourage you to reach your goals is important.
Working with IT security in today's world feels meaningful
I was attracted by the IT field because I found it an exciting and challenging field that is growing fast. The IT industry has a constant demand for qualified professionals, and it offers a wide range of opportunities if you have the right mindset.
During my journey within IT, my passion went towards IT security and leadership. Today, I work as a Team Manager within our Digital Trust business area at Epical. Together with my team of experts in Sweden and Finland, we focus on delivering comprehensive Identity and Access Management solutions to secure access controls as well as identity governance and administration architecture. Working with security these days both feels meaningful and comes with a lot of opportunities.
Woman in tech for 24 years
Gender doesn't matter if you ask me and that's the prerequisite we all must have. Many things have changed over the years, and it is much better than it was 15 years ago. However, I have found it hard to find women to join my team.
The change will start in ourselves and our mindset. Have the courage to speak up and believe in yourself. If you want it, you can do it. Gather around your mentor and great people who support you and encourage you. In the end, it is all about people.
- Therese Rosengren, Team Manager Digital Trust, Epical